The Gezonde Kas System
The building blocks of this Gezonde Kas system consist of equipment for DNA- and sensor- techniques and automated image processing, but also of software tools, biological control strategies and precision spraying techniques.
These building blocks already exist to a large extend. In the Gezonde Kas project they are improved towards the current greenhouse system standards, and adjusted into one integrated, coherent Gezonde Kas system.
Concept Gezonde Kas-system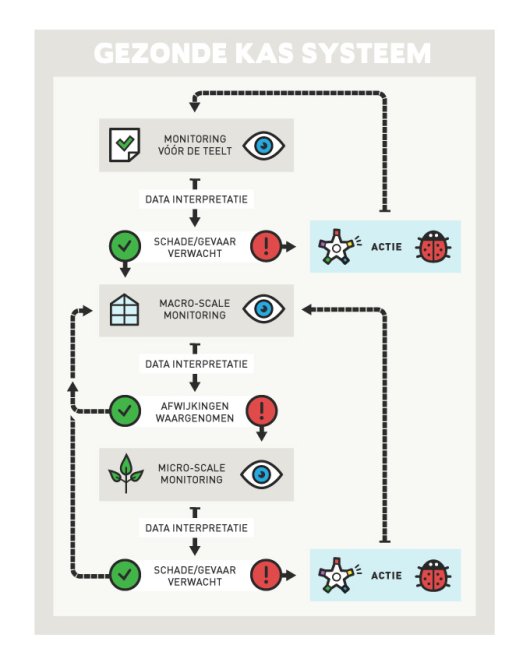 The to be developed equipment and software standing on its own is of little value as the input information and/or advice is lacking. Marketing the products separately is therefore less feasible and profitable. By combining the products they strengthen each other, resulting in the totally new concept of the Healthy Greenhouse system: innovative crop protection connecting to modern developments in the modern glass horticulture agribusiness.
Monitoring on macro and micro level
An important part in the Healthy Greenhouse system is monitoring on both macro and micro levels. This enables detection of diseases before symptoms are visible by the naked eye. Thanks to this early detection, application of biological agents or other alternative, environmental friendly measures become possible for the effective control of pests or diseases. If chemical crop protection products need to be applied after all, reduction on the use of chemical agents is ensured by optimal precision spraying techniques.